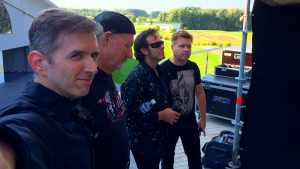 (Dave Fields Band at KIEV GOLF CLUB photo Lee Jeffryes. With Buddy Allen and Vlad Barsky)
Wow! It's been a crazy busy summer and now that it's coming close to the end I'm SO looking forward to having an amazing fall! The trip we just had (we being: Vlad Barsky, Buddy Allen and Lee Jeffyres) in Kiev was incredible and it's always great to share the stage with Lucky Peterson. I'm so excited about going back to Kiev for a show Nov 11th after I finish my stint in Norway.
This Week
This Friday Sept 15th I will be a special guest with The Matt Noffsinger Band at Porta 911 Kingsley St Asbury NJ from 5-8pm outside http://pizzaporta.com
Next Week
I am playing my first show at Debonair Music Hall (Formerly Mexicali Live) 1403 Queen Anne Rd Teaneck NJ Thursday Sept 21st doors open at 7pm with Rosey G and Friends as the opening act. I'm excited to have with me Erik Boyd on bass and Matt Arbeiter on drums. To purchase tickets: https://debonairmusichall.showare.com
Friday Sept 22nd I will be the headlining act at NH Motor Speedway 1122 Rte 106 Loudon NH from 3-5pm at the Trackside Live Stage for the opening of the ISM Connect 300! http://www.outlawnation.com/new-hampshire-speedway/
Saturday Sept 23rd I return to my favorite restaurant Daddy Jacks 181 Bank St New London CT 8:30pm start!
Coming Up For Dave Fields
Sept 21st DEBONAIR MUSIC HALL (formerly Mexicali Live) Teaneck NJ 8pm
Sept 22nd NEW HAMPSHIRE MOTOR SPEEDWAY Laconia NH 5pm
Sept 23rd DADDY JACKS New London CT 8:30pm
Sept 28th VICTORS Hawthorne NY 8:30pm
Oct 6th LYRAN SOCIETY Rockford IL
Oct 7th FLATTED FIFTH Bellevue IA
I hope to see you soon at one of my shows!
-Dave
http://www.davefields.com/wp-content/uploads/2015/06/davefeatured.jpg
172
499
davefields
http://www.davefields.com/wp-content/uploads/2018/06/davefields.jpg
davefields
2017-09-13 11:27:10
2017-09-13 11:28:04
Big Shows Coming Up!