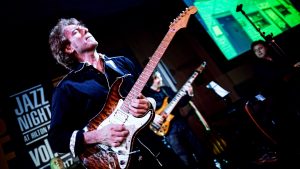 (Dave Fields at THE KIEV HILTON photo Igor Petrof)
DON'T FORGET TO VOTE FOR MY SONG AT BIG CITY BLUES MAGAZINE
Vote for my song for the coolest blues song!:
http://www.bigcitybluesmag.com/Sampler-rating-21-2.html
Wow… Kiev was amazing… Vlad Barsky is always genius on keys! The band that promoter Victor Ovchinnikov provided for us: Valeriy Volkov on drums and Valentin Korniyenko on bass were amazing. Kiev is a lovely city with the most beautiful eastern orthodox churches I've ever seen. I will be back in Lviv Ukraine at the Alfa Jazz festival June 27th. I can't wait!
The Aries birthday continues this week with three MORE shows!
Thursday Apr 13th I will be at RIVARA'S Fair Lawn NJ 10pm for my "Unleashed" acoustic CD Party and birthday bash WITH opening act Jaymie Gerard from 8-9:45pm!
http://www.rivaras.com
Friday April 14th SONA 13, 13 South St Morristown NJ the Dave Fields acoustic show continues from 5:30-8pm with special guest Forever Fields on keys!
http://www.sonathirteen.com
Saturday Apr 15th ROBIN'S NEST is Robin Bactoe's and mine BIG birthday bash AND my Robin's Nest Unleashed CD party! 3103 Tremley Point Rd Linden NJ 9pm. Featuring the vocal stylings of Robin Bacote and Lee Jeffryes on drums and Buddy "The Rhino" Allen on bass!
http://www.robinsnestrhythmandblues.com
Videos
CHILD OF THE WORLD
https://youtu.be/jx4sQgvbrrw
ANTICIPATING YOU
https://youtu.be/bB4JzTMzdd8
Interview with Richard L'Hommedieu from Making A Scene:
http://www.makingascene.org/depth-interview-dave-fields/
#1 IN BLUES NYC ON REVERBNATION!
https://www.reverbnation.com/davefields
Check out the interview of me in the latest issue of Big City Rhythm And Blues Magazine by Guy Powell
Coming Up For Dave Fields
Apr 26th SONA 13 5:30pm Morristown NJ
UNLEASHED CD PARTIES
Apr 21st 12 GRAPES Peekskill NY 9pm
Apr 27th STANHOPE HOUSE Stanhope NJ 7pm
Apr 28th DADDY JACK'S New London CT 8:30pm
Happy Passover and Easter!
-Dave
http://www.davefields.com/wp-content/uploads/2015/06/davefeatured.jpg
172
499
davefields
http://www.davefields.com/wp-content/uploads/2018/06/davefields.jpg
davefields
2017-04-10 06:10:07
2017-04-10 06:10:07
Aries Birthday Week!