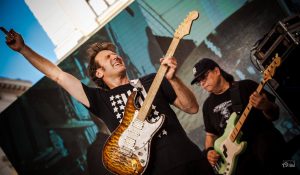 (Dave Fields and Erik Boyd at Alfa Jazz Festival, Lviv Ukraine)
W O W!!!! It's been a CRAZY few weeks but I'm not complaining! I haven't even had time to write my newsletter!
I'm finally back home after being on the road in Ukraine, Poland, Norway, Portland Oregon and Montana. It's been a whirlwind but an amazing whirlwind! I have to thank all the musicians who played with me, they put up with me and they tore it up! The promoters were sensational. I'm honored to have had the opportunity to play for so many amazing people…
Tonight July 12th I will be at American Trash 1471 1st Ave NY NY between 76th and 7th Streets at 8pm with Ross Daisomont and Chris Markwood. I'm sad to say that this will be Chris Markwood's last show with us, he's moving back to LA. We are losing a good one but LA is getting back a great one!
Sunday July 13th 2-4pm I will be at The Blueberry Festival at The Burnside Plantation Bethlehem PA.
https://historicbethlehem.org/blueberry-festival/
Coming Up For Dave Fields
July 22nd KEEGAN'S ALEHOUSE Kingston NY
Aug 9th AMERICAN TRASH NY NY
Aug 11th DADDY JACK'S New London CT
Aug 12th CENTERSTAGE Dennisport MA
Aug 18th TWISTED TAIL Philadelphia PA
Aug 25th THE RUSTY NAIL Wilmington NC
-Dave
http://www.davefields.com/wp-content/uploads/2015/06/davefeatured.jpg
172
499
davefields
http://www.davefields.com/wp-content/uploads/2018/06/davefields.jpg
davefields
2017-07-12 14:34:27
2017-07-12 14:34:27
American Trash and Blueberry Festival