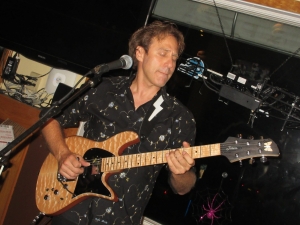 (Dave Fields at Victors Hawthorne NY – Photo Victors Hawthorne NY)
Friday and Saturday Oct 26-27th TAMBOUR, 652 5th Ave Brooklyn NY
I continue my "residency" at Brooklyn NY's coolest music – wine bar/restaurant with an evening of light blues-funk-soul-jazz. Chef Thomas will rock your world with his outrageous menu. Featuring Nick DiFrisco on drums and Anthony "Tbone" McEwan on bass. I expect many special guest so bring your axe!
https://tambourbar.com
Saturday Oct 27th DADDY JACK'S HAS BEEN CANCELED due to storm
NEW VIDEO ON THE WAY! Hopefully by next week it will be ready!
Big Show November 8th at Roxy & Dukes – Dave Fields & Friends with opening acts Bluesball and The Bob DelRosso band. I will have as my special guest Tara Layne. Get your tickets now:
https://www.showclix.com/event/dave-fields-friends
Coming Up For Dave Fields
Nov 2nd TAMBOUR, Brooklyn NY
Nov 8th ROXY & DUKES, Dunellen NJ
Nov 13th PRELATEN, Tromsø NO
Nov 14th MONTENEGRO JAZZ & BLUES, Hammerfest NO
Nov 15th BARILA, Alta NO
Nov 16th VARDØ NO
Nov 17th LYSTGAARD, Skjerstad NO
Nov 23rd TAMBOUR, Brooklyn NY
I hope to see you soon!
-Dave