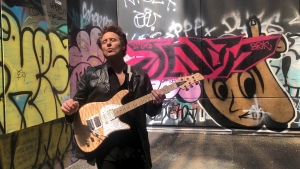 (Photo Jasper Fields)
YouTube Live Thur Apr 23rd!
Hi everyone!
Well… I was supposed to be playing at Debonair Music Hall in Teaneck NJ April 23rd with my American band. Instead I'm going to come to you solo from my lower east side Manhattan studio this Thursday April 23rd. Special guest, Jasper Fields, he's 14 years old! Show time will be 2pm NY time 8pm Oslo time. I know that's early for all you US fans, however I wanted to do something special for all my friends in Europe and they will be able to see the show at a decent hour.
Here's the link:
https://youtu.be/mxHMpGqHXYE
I have to tell you, even though I'm not driving anywhere or moving any gear, it's still a LOT of work to put on one of these shows! I put a lot of thought into what I'm going to play and then I practice it so I don't suck LOL!!! It's obviously different when you play solo which is why I will be playing to some tracks that I have specially created just for this show AND I'm planning some other cool things for this show. If you have any requests, please email me back.
Also, I'm making the big push to get more subscribers on my YouTube channel. My goal is to get to 1,000 subscribers by the end of May so please, if you haven't done so already, subscribe to my YouTube channel!
CLICK HERE TO GO TO THE DAVE FIELDS YOUTUBE CHANNEL
I apologize for the technical difficulties with the last show and I want to thank all of you that patiently checked it out. I've been putting in extra time to make sure that never happens again. I've turned my small 5'x12' recording studio into a YouTube live studio and it's not as easy as I was hoping it would be. The lighting, the streaming, the audio… my vision is to make it look as if you were seeing and and hearing in a music venue, not like I'm just sitting on couch (although I can do that! LOL!)
I will be posting new videos every week for the forseeable future. I have four new live videos with my band ready to go when FORCE OF WILL gets released, which is looking like sometime in June.
YOUR SUPPORT MEANS SO MUCH! HUGE, HUGE HUGS TO ALL OF YOU!!!
Stay safe and healthy!
-Dave
Dave Fields Plays
Fodera Guitars
www.fodera.com
http://www.davefields.com/wp-content/uploads/2015/06/davefeatured.jpg
172
499
davefields
http://www.davefields.com/wp-content/uploads/2018/06/davefields.jpg
davefields
2020-04-20 13:53:52
2020-04-20 13:57:53
YouTube Live Thur Apr 23rd!